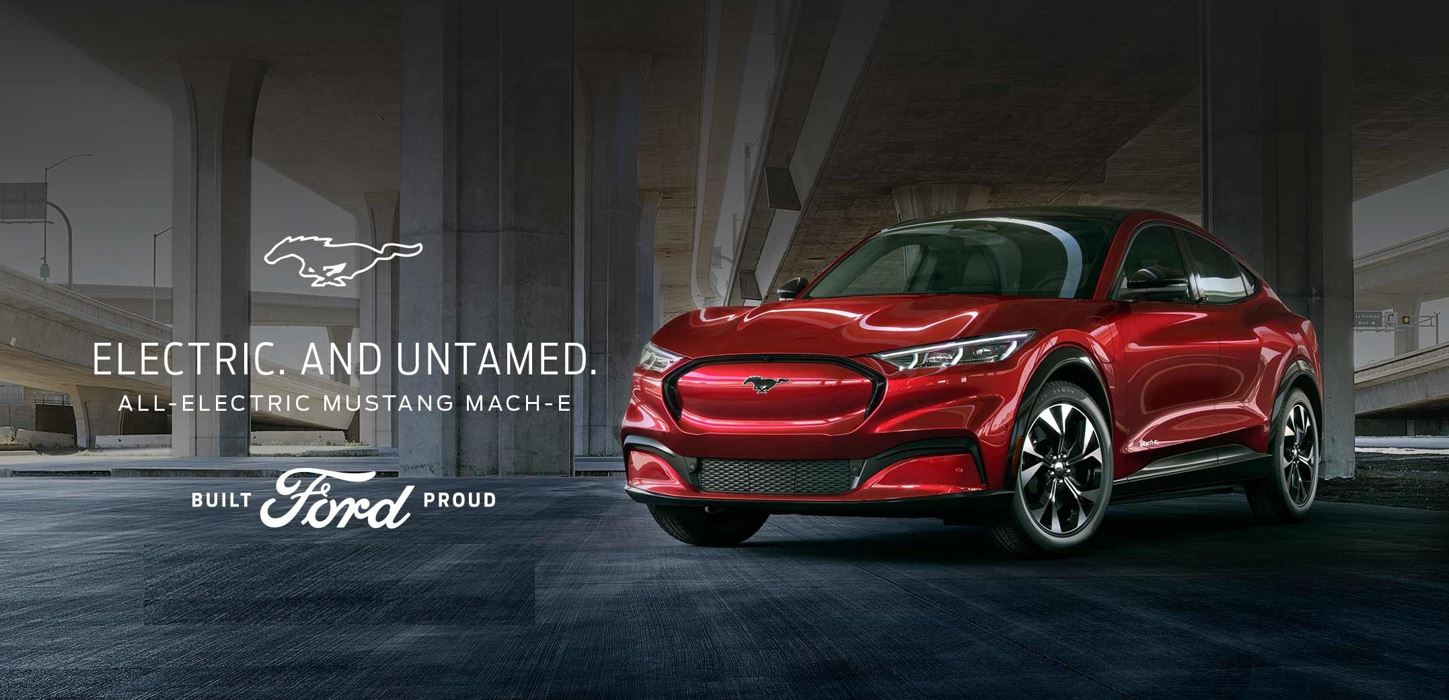 The New Ford Mustang Mach-E is the Future of Performance
For years, the Ford Mustang has been an icon of performance, styling, and a commitment to automotive excellence. Whether you're someone who enjoys speed or the latest the automotive industry has to offer, a Ford Mustang is likely the vehicle for you. And, there will be even more car shoppers attracted to the new Ford Mustang Mach-E, an all-electric SUV entering the Mustang lineup. We're excited to have the 2021 Ford Mustang Mach-E arriving in Seminole, OK, and we'd love to tell you more about this new electric Ford SUV. Read more Ford Mustang Mach-E details below!
Experience the 2021 Ford Mustang Mach-E in Seminole, OK
We work hard to deliver the inventory that Shawnee, OK drivers expect. That's especially true when it comes to the exciting new models from the Ford brand, which is just what the 2021 Ford Mustang Mach-E is. If you've been looking for an electric SUV that still excites in the ways that only a Mustang can, the Ford Mustang Mach-E is the model that you've been waiting on!
Power & Performance
The 2021 Ford Mustang Mach-E marks the introduction of an all-electric Ford Mustang model. With this new Ford model, you can enjoy all of the benefits of electric engines, like zero emissions, as well as serious performance. There are many Ford Mustang Mach-E offers near Wewoka, but all provide power, up to 459 horsepower and 612 pound-feet of torque, and performance, an expected 0 to 60 time in the mid-three second range for some models. Plus, the Ford Mustang Mach-E comes with rear-wheel drive for better handling, but all-wheel drive is also an option if you plan on using this electric performance SUV during the winter!
So, how do you manage the battery of the Ford Mustang Mach-E? Well, this electric Mustang SUV has a range of up to 300 miles, which is more than enough to tackle your trips throughout the week. But, when you're low on battery, you can easily charge it overnight in your home or use a fast-charging station in the area.
Styling
In terms of styling, the 2021 Ford Mustang Mach-E is sure to turn heads in all of the right ways. It's not only the first electric Mustang, but it's also the first Mustang SUV for sale near Prague. On its exterior, the new Ford Mustang Mach-E boasts a sleek and striking design. Better yet, thanks to a variety of exterior paint options, you can get a new vehicle that reflects your personality perfectly. Inside of the 2021 Ford Mustang Mach-E, you'll find premium materials that take the experience of being inside of the new Ford to the next level. And, you get functionality throughout it all as the Ford Mustang Mach-E has a lot of head and legroom for five passengers as well as a max cargo capacity of 59.6 cubic feet.
Features and Safety
Additionally, the 2021 Ford Mustang Mach-E introduces all sorts of innovative features that help you get the most out of your experience behind the wheel of this electric SUV. It introduces the next-generation SYNC system, and you get to control all the great functions of that infotainment system through a massive 15.5-inch touchscreen, which fits the style of this new Mustang. There are many remote controls you can use through your phone, which also works as the key for this electric SUV. Plus, there are items like heated seats, a hands-free open liftgate, and a glass roof for comfort and convenience!
The safety features of the Ford Mustang Mach-E are where you'll see even more smart technologies. When you want to enjoy the performance of your Mustang, it's nice to know that there are driver-assist systems to help you out. Well, the driver-assist technologies of the new Ford Mustang Mach-E include:
Lane-Keeping System
Reverse Brake Assist
Auto High-Beam Headlamps
Pre-Collision Assist with Automatic Emergency Braking
Blind Spot Information System with Cross-Traffic Alert
Post-Collision Braking
Active Park Assist
Discover the 2021 Ford Mustang Mach-E Near Holdenville
If you've been looking for 2021 Ford Mustang Mach-E news, our dealership is ready to help. We encourage area drivers who are interested in what Ford has to offer to make the trip to our dealership in order to learn more about the 2021 Ford Mustang Mach-E arriving at Seminole Ford. Our team has insights into the diverse lineup of new Ford vehicles, including new Ford electric models. We're excited to share that knowledge with drivers in the area to help you make an informed decision when it comes time for your next Ford purchase or lease. Visit our store today and learn why the 2021 Ford Mustang Mach-E may be right for you!
The Ford Mustang Mach-E was named North American Utility of the Year
Good news for Seminole, OK driver shopping for that special SUV to improve their daily commutes. The Ford Mustang Mach-E was named the North American Utility Vehicle of the year, a distinctive award for the segment. Not only did this new addition to the SUV lineup for Ford win this prestigious award, but it was also named a Motor Trend SUV of the Year and Top Gear Car of the Year-all leaders in the automotive review industry.
In terms of winning the title of North American Utility Vehicle of the year, the Ford Mustang Mach-E had to withstand a tough set of judgments yet still came out on top. A 50-member jury calculates this award made up of American and Canadian journalists in the automotive field. With their input and careful consideration of other SUVs in the class, this team found the Ford Mustang Mach-E the SUV not to miss for Shawnee, OK drivers.
The jury considered many different things when making this decision, of course. Some of the following criteria included consideration of innovation, safety features, handling, driver satisfaction, design originality, and value. With one test drive, Holdenville drivers will love the beautiful combination of all of these elements to create an SUV made for the American people with confidence and satisfaction in mind.
It's also worth considering that the Ford Mustang Mach-E was seen as a leader in integrated technology. One of the things that stood out for judges was the fact that over=the-air updates are available as part of the vehicle's infotainment system so that Wewoka drivers can update their SUV to their liking on-the-go, and always stay up to date with the latest from Ford.
Prague drivers should swing by their local Seminole Ford dealership to get behind the wheel of the North American Utility Vehicle of the Year.
Directions
Get Directions
Hours
Monday

8:00 AM - 6:00 PM

Tuesday

8:00 AM - 6:00 PM

Wednesday

8:00 AM - 6:00 PM

Thursday

8:00 AM - 6:00 PM

Friday

8:00 AM - 6:00 PM

Saturday

8:00 AM - 3:00 PM

Sunday

Closed