Ford Auto Service Near Seminole, Shawnee, Holdenville, Wewoka and Prague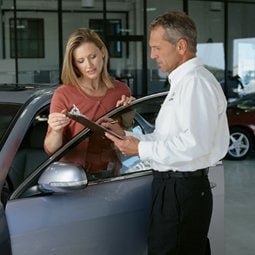 As hard as we may try to avoid it, there's just no accounting for what human error and Mother Nature will throw your way when you're on the road. Lucky for you and your Ford F-150, Ford Superduty, Ford Expedition, Ford Explorer or Ford Fusion, the Ford service and repair team at Seminole Ford is here to the rescue. The experts in our auto service department know your specific Ford vehicle like no one else, ensuring your vehicle continues to exceed your expectations.
Regardless of whether you hail from Seminole or one of the surrounding areas we proudly serve such as Shawnee, Holdenville, Wewoka or Prague, getting in touch with our service department is easy. Just fill out one of our online contact forms, let us know what your issue is and we'll take it from there. After all, keeping your car healthy and driving is what we live for here at Seminole Ford.
Seminole, OK area drivers can always rely on our quality automotive services here at Seminole Ford. Whether you're seeking an oil change, tire rotation, fluid flush, or something else, we've got your basic needs covered. Our technicians are experts and want to ensure that your vehicle is properly serviced and maintained so you can enjoy as many years on the road with it as possible. We can cater to all of your service needs, as well as any repairs.
Our team will tackle any repair or body work in a timely, professional manner. We strive to restore your vehicle to the best possible condition regardless of the circumstances. You can always count on our service center to come through in any situation.