Genuine Ford Parts and Accessories Keep Your Car Running Like a Charm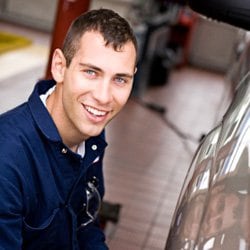 There's an old adage that says, "You only get out of what you put in" and that certainly applies to car parts and accessories. We can't overstate how important it is to only use Genuine Ford Parts and Accessories in your prized vehicle. We've learned that it's simply the only way to guarantee that your new new Ford model will continue to look, feel and drive like the day you brought it home!
Furthermore, there's no reason to settle for after-market parts when it's just as easy and affordable get factory-backed parts at Seminole Ford serving Seminole, Shawnee, Holdenville, Wewoka and Prague. That way, you can enjoy the quality, safety and performance that you've come to expect from your car!
Thankfully, you don't have to worry about finding the perfect replacement part on your own. We offer the helpful assistance of our parts specialists to help you track down the perfect part or accessory. Our service technicians are ready and waiting to perform a painless installation to get you back on the road right away. Just make sure to swing by Seminole Ford in Seminole to chat with a helpful parts specialist today!
Using quality parts when you make any auto repair is important not only to your safety, but also to the health of your vehicle. Your vehicle was designed to work with all sorts of moving parts, so if a particular piece of your car is damaged or needs repair, using certified parts from the manufacturer is your best bet.
You'll only find certified parts here at Seminole Ford, proudly serving our customers and drivers around the Seminole, OK area. We host a selection of auto parts that are unrivaled, simply because they come straight from the original equipment manufacturer. Using certified parts ensures your vehicle is running to the best of its ability - and the way it was designed to work. Whenever we take on car repairs we only use the best auto parts so that you can take the wheel of your vehicle with total confidence.
If you need a new auto part or accessory, please inquire today. You can do so on our website, by giving us a call or by stopping into our parts center and speaking with a team member.