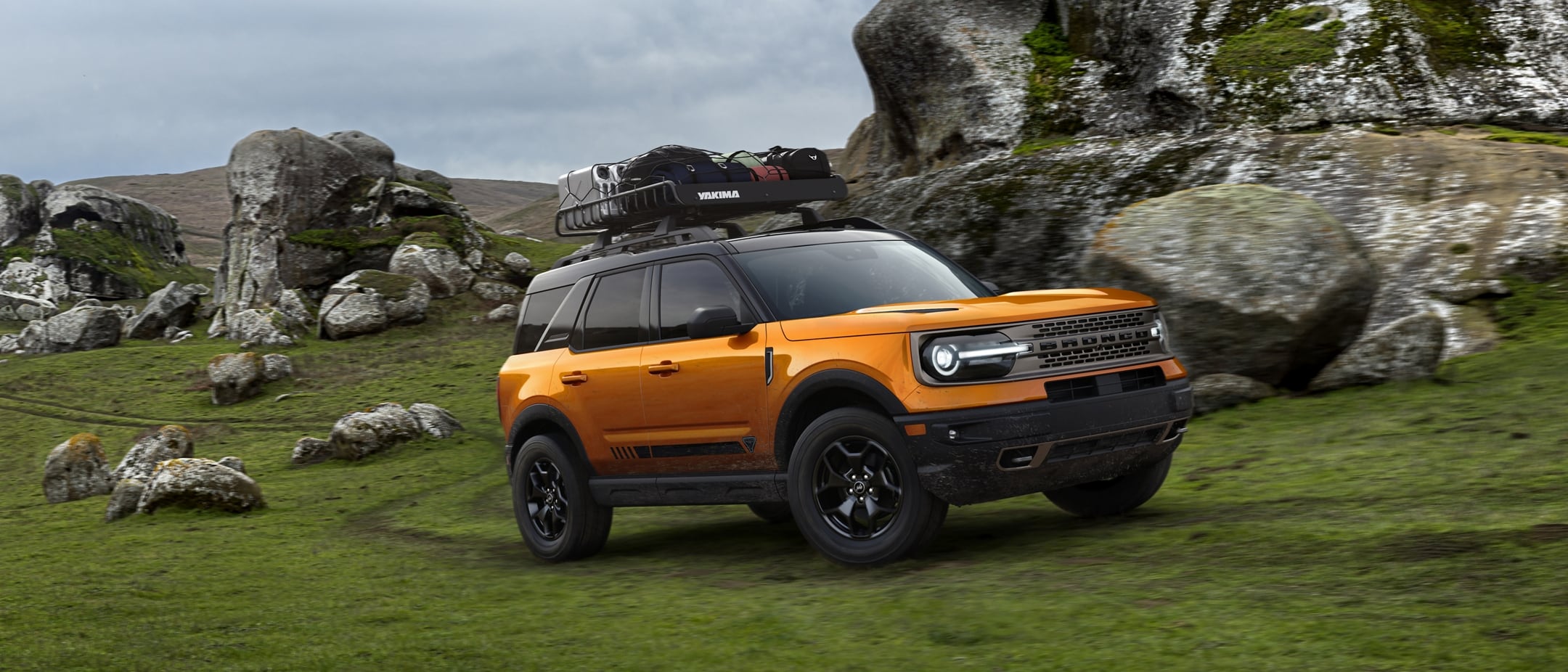 Check Out the Ford Bronco Sport Near Shawnee, OK
The Ford Bronco Sport is a small SUV with plenty of off-road and all-terrain capabilities. The new Bronco Sport is a great take on a classic. The Ford Bronco Sport at our dealership near Prague has many standard features, which provides plenty of amenities for your daily driving needs and adventures. Along with all the standard amenities that come with the Ford Bronco Sport, there are many opportunities to provide your SUV with a custom finish. An overall rugged design and chiseled appearance are other highlights of the Ford Bronco Sport.
The Ford Bronco Sport is a variant of the Ford Bronco. Both models were redesigned fairly recently in the auto maker's history. The Ford Bronco Sport has the same name as the Bronco, which was a classic and iconic SUV released by Ford several decades ago. However, the contemporary Ford Bronco Sport has a sporty and nimble crossover design that gives it exceptional fuel economy and traction when driving on the road. You'll still see some retro elements on the Ford Bronco Sport that pay homage to its predecessor, but the classic SUV has also had some notable design changes.
Performance
The new Ford Bronco Sport near Wewoka is driven by a turbo-charged base engine with three cylinders and an automatic eight-speed transmission. You can order your truck with more powerful engines too, including a turbo 2.0L engine that has a higher maximum power output. All-terrain tires are added to certain trim levels to provide the Ford Bronco Sport with more durability and traction. Some trims also have an off-road suspension system. Four-wheel drive is added to the Ford Bronco Sport to enhance its performance and handling characteristics.
Interior and Technology
The new Ford Bronco Sport near Holdenville is ready to meet all your technology needs with standard Android Auto, Apple CarPlay, and smartphone pairing. The rear liftgate can be flipped up to make it easier to put objects into the truck. Automatic climate control comes with select trims, and the Ford Bronco Sport also has keyless entry and tinted windows on the upper-end trim levels. The seats have cargo pockets for extra storage space, and the cargo area opens up to provide an impressive amount of storage as well. The floor mats are made of special stain-resistant materials, and the cloth seats on the base trim are formulated to keep stains at bay, too. Higher-end amenities including leather upholstery and heated front seats are added on to some trim levels of the Ford Bronco Sport. Remote ignition is another feature found on the higher-end trims of the Ford Bronco Sport. The Ford Bronco Sport has an interior with premium lighting, and it also has luxury features such as a heated steering wheel that is wrapped with leather. A household power outlet is included with the Ford Bronco as well.
For technology, the Ford has an infotainment system that is quite user-friendly, and you can see the Ford's performance capabilities in real time with a digital instrument display that comes with some trim levels.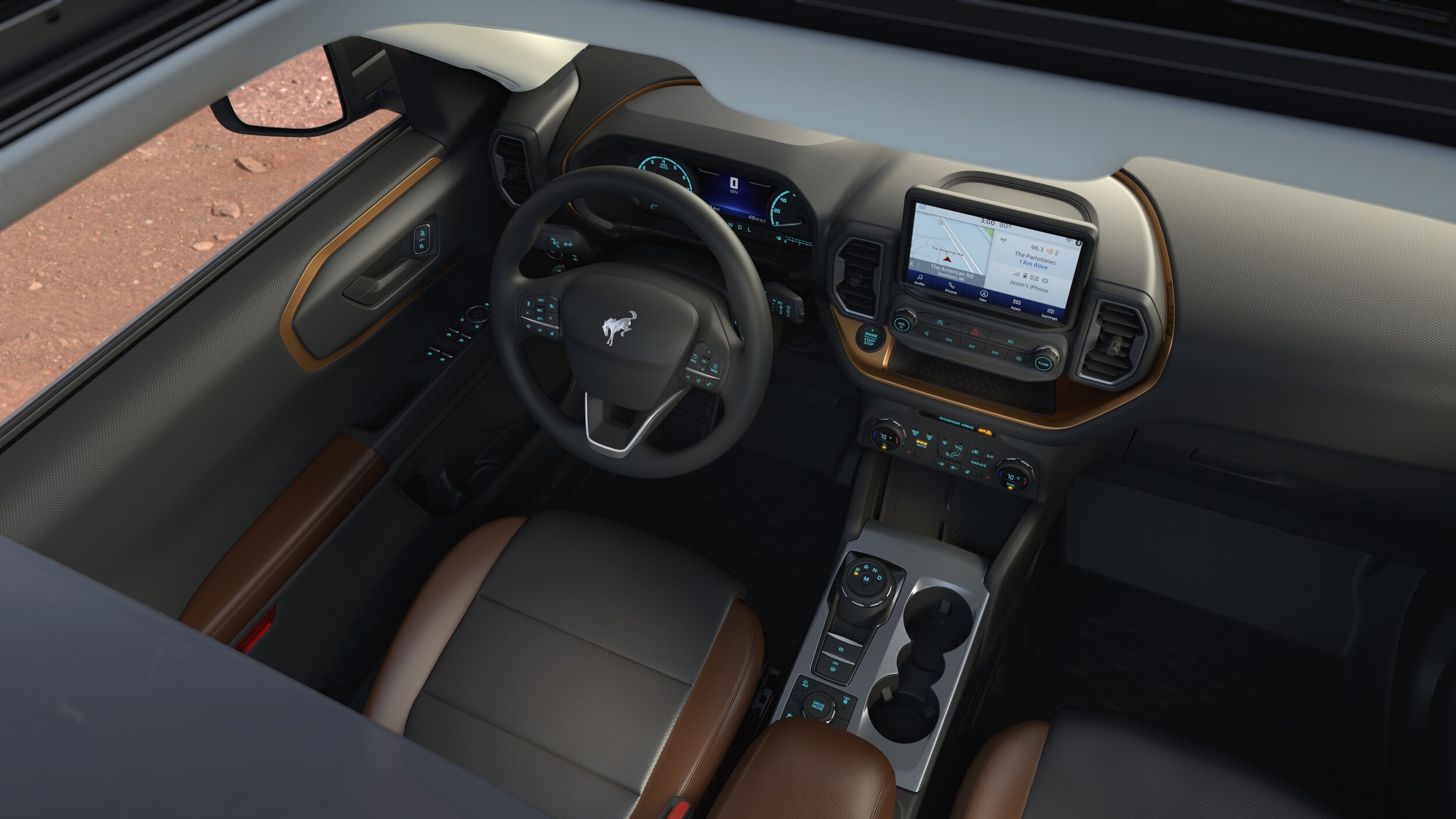 Safety
For safety, the Ford Bronco Sport gets some standard advanced safety tools. The Ford has blind-spot monitoring, lane-keep assist, rear cross traffic alert, and forward collision mitigation. Along with all the safety aids that are standard with the new Ford Bronco Sport, you can also get some available safety amenities to make your vehicle even safer, such as adaptive cruise control that maintains a safe distance from your car and the vehicle ahead.
Trim Levels
The Ford Bronco Sport is produced in five trim levels:
Base
Big Bend
Outer Banks
Badlands
First Edition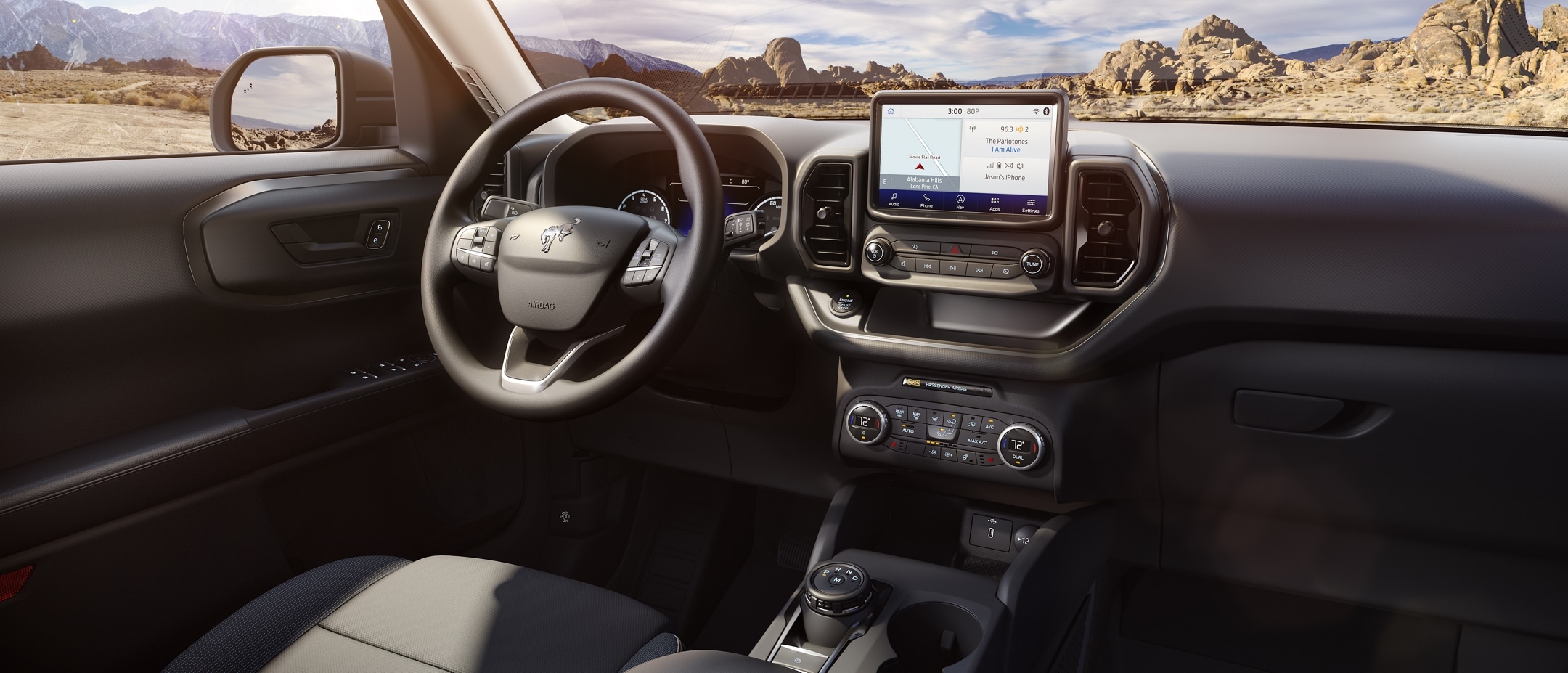 Warranty
Ford has a warranty program that rivals any competitor and is very consistent with its offering across all models in its lineup. Therefore, the new Bronco Sport would fit right in by having a limited powertrain warranty that is standard within the automotive industry. Ford most likely will offer guarantees such as:
A bumper-to-bumper three year or 36,000-mile limited warranty.
A five year or 60,000-mile powertrain warranty.
Most likely, no complimentary scheduled maintenance.
See the Ford Bronco Sport at Seminole Ford Near Holdenville
The 2021 Ford Bronco Sport, affectionately known as the "Baby" Bronco, is expected to wreak havoc on its competitors. As anticipation builds until its debut, the expectations are high as this on- and off-road dual-threat continues to increase. Want more information, contact your local Ford dealership in the Wewoka area and demand details on the new 2021 Ford Bronco Sport.
Contact Us at Seminole Ford Today
Eager to get behind the wheel of this stunning model at your local dealership near Wewoka and Holdenville? We can't wait either. Go ahead and contact our team today to learn more about when you can expect to find the full trim level lineup of the 2021 Ford Bronco Sport in our new SUV inventory.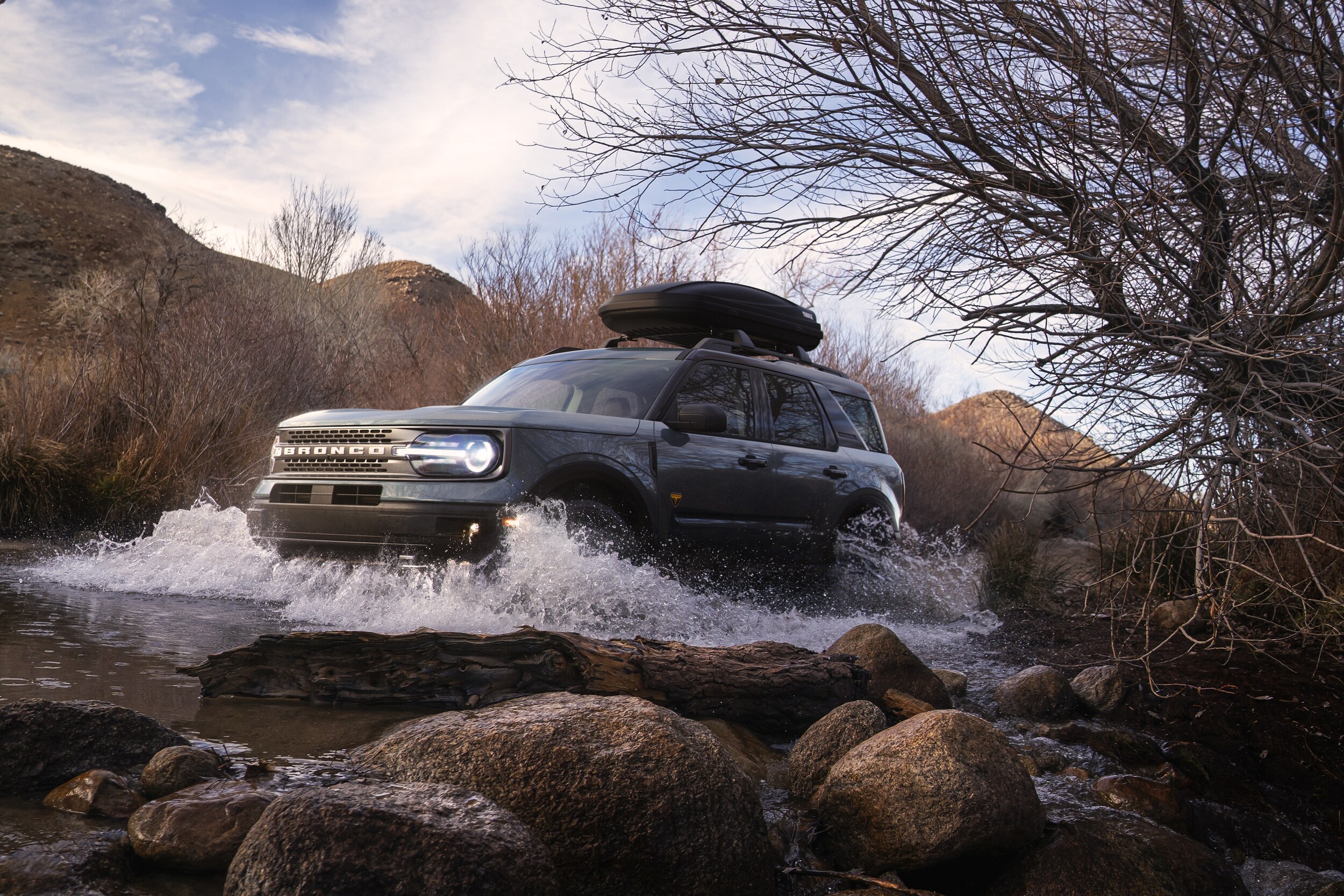 Ready To Learn More?
To find out more about the Ford Bronco Sport and its features, contact our team at Seminole Ford in Seminole, OK today.
Make an Inquiry
Directions
Get Directions
Hours
Monday

8am-6pm

Tuesday

8am-6pm

Wednesday

8am-6pm

Thursday

8am-6pm

Friday

8am-6pm

Saturday

8am-3pm

Sunday

Closed